Our extensive tint range will ensure all your fashion needs are meet ranging from a full tint, gradient tint and an array of the latest fashion tints now available.
TINTS
Express yourself with OSA'a extensive range of colours that can be applied to most OSA's lenses, whatever your prescription.
We have a large array of colours ranging from Full tints, Gradient tints, and fashion tints.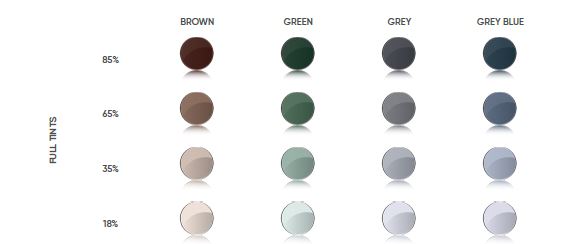 Contact your Account Manager for a complete range of colours and gradients.
A mirror coating can be applied on the front of the lens for the latest fashion statement or to further customise the tinted lenses, we have an extensive range of colours for you to select from.
MIRROR COATING
Mirror Coating Benefits
Whether you are on the beach or in the city – with a trendy mirror coating you highlight your individual look. You can choose from six mirror colours for your new sunglasses.
Xperio Polarised Mirror Coating
The Xperio polarised range also is available with a select range of mirror coatings.