Our extensive tint range will ensure all your fashion needs are meet ranging from a full tint, gradient tint and an array of the latest fashion tints now available.
TINTS
Express yourself with OSA'a extensive range of colours that can be applied to most OSA's lenses, whatever your prescription.
We have a large array of colours ranging from Full tints, Gradient tints, and fashion tints.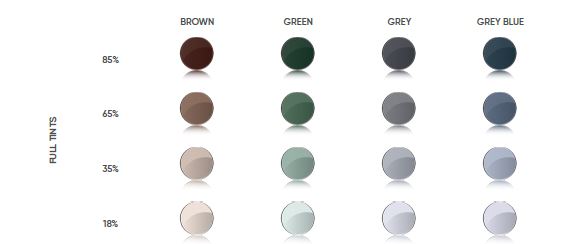 Contact your Account Manager for a complete range of colours and gradients.
NeoSun helps wearers get the most out of their prescription sunglasses. Lenses are designed to fit a variety of frames, including sports, fashion and rimless. With a selection of tinted, polarised and mirror finishes, NeoSun offers endless choice.
NEOSUN
Wearer Benefits 
Neosun wearers will enjoy:
Broader frame choices, with wearers able to choose any RX-able frame, from sport to fashion
Sun protection of E-SPF 50+ with Neva Max Solaire UV
Any easy to fit system that's available in Single vision and Progressive lens options
Stylish choice of Polarised, tints and mirror coatings
Ease of Ordering:
A large range of lens indices
A large range of prescriptions
Up to 4 different base curves in the lens design, including base curve 5,6,7,8
Lens Diameter up to 95mm, so even the largest frames can be accommodated
The ability to choose colour tint, polarised tint or any mirror coating
A mirror coating can be applied on the front of the lens for the latest fashion statement or to further customise the tinted lenses, we have an extensive range of colours for you to select from.
MIRROR COATING
Mirror Coating Benefits
Whether you are on the beach or in the city – with a trendy mirror coating you highlight your individual look. You can choose from six mirror colours for your new sunglasses.
Xperio Polarised Mirror Coating
The Xperio polarised range also is available with a select range of mirror coatings.