Our extensive tint range will ensure all your fashion needs are meet ranging from a full tint, gradient tint and an array of the latest fashion tints now available.
TINTS
Express yourself with OSA'a extensive range of colours that can be applied to most OSA's lenses, whatever your prescription.
We have a large array of colours ranging from Full tints, Gradient tints, and fashion tints.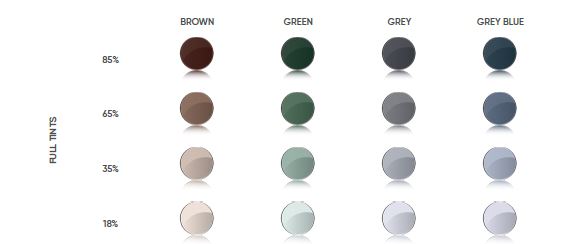 Contact your Account Manager for a complete range of colours and gradients.
A mirror coating can be applied on the front of the lens for the latest fashion statement or to further customise the tinted lenses, we have an extensive range of colours for you to select from.
MIRROR COATING
Mirror Coating Benefits
Whether you are on the beach or in the city – with a trendy mirror coating you highlight your individual look. You can choose from six mirror colours for your new sunglasses.
Xperio Polarised Mirror Coating
The Xperio polarised range also is available with a select range of mirror coatings.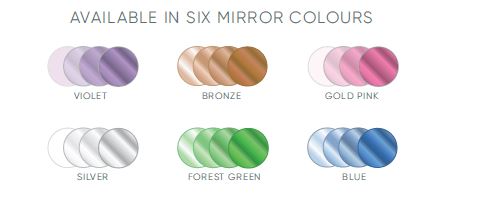 Optifog is a new generation of lenses with an exclusive anti-fog Top Layer. Activated by the Optifog Smart Textile, it offers you the best and most durable protection against lens fogging.
OPTIFOG
Optifog
Stay fog free you no longer need to suffer the inconvenience, embarrassment or danger of fogged-up glasses. Stay fog free whatever the conditions, and get daily defence against UV to protect the long-term health of your eyes.
Technology and Patents
Two international patent applications have been filed on the Optifog® system. When combined with Optifog® Smart Textile, a microfiber dry cloth, Optifog® lenses provide immediate and efficient fog-free vision. The Optifog® lens has unique, hydrophilic top layers with inherent fog repellent properties. These top layers are activated thanks to the specific molecules of the innovative Optifog® Smart Textile. Droplets that would usually result in fog and inhibit vision spread uniformly across the lens, for an invisible and fog-free effect.
Wearer Benefits
Fog can diminish the vision of spectacle wearers and can arise in many situations. Professionals who frequently move from hot to cold environments or are required to wear masks or helmets often experience foggy lenses. Pursuing outdoor activities or even day-to-day chores such as cooking can also mean dealing with reduced visibility. Optifog® lenses offer an optimised solution to the inconvenience of fog.